Dale Recommends
Dear Friends,
Here is my Network Marketing arsenal of products that I PERSONALLY USE and RECOMMEND. I only recommend those products that get results and that live up to their promises. So here goes…
MLM Lead System Pro
The first thing that you you need if you are involved in any Network Marketing or MLM company is a lead generation system. This is also called a Sales Funnel and is described by Mike Dillard in his popular ebook, Magnetic Sponsoring. Well these three leaders in the MLM community, Norbert Orlewicz, Brian Fanale and Todd Schlomer have designed a complete plug and play lead generation system called MLM Lead System Pro that puts all of the pieces together and gets you up and running quickly. MLM Lead System Pro, also called MLSP, also provides hundreds of hours of training and recorded webinars from industry leaders. Every week they have a live webinar. And they also have live prospecting calls where you can listen the leaders in the MLSP community make live prospecting calls and then you can ask questions.
Magnetic Sponsoring
Mike Dillard changed the industry of Network Marketing when he wrote the ebook, Magnetic Sponsoring.  This creted a model called Atrraction Marketing.  In this he describes the Sales Funnel and the Funded Proposal.
Building on a Budget
Black Belt Recruiting provides you with training to become a recruiting black belt. You will go wild when you hear what Mark Wieser has to say about recruiting and you learn that you don't have to coerce prospects to join your opportunity.
Traffic Formula 2.0
The Copywriters Guild
PPC Domination
Automatic Article Submitter (AAS)
For anyone doing article marketing, Automatic Article Submitter or AAS is a must.  Yes there are other spinner and submitter products out there.   But I just love the features of this product.  I have studied some of the other products and this one is my recommendation.  Also this is the product used by Article Marketing expert David Wood.  For me, that's all that I need to hear and I'm in.  I have contacted the programmer of AAS, Milan and each time he answered me back with the right answer.  So go ahead and get this, you won't regret it.
Viral Content Magic
The Wordpress Classroom
Aweber
Godaddy
Hostgator


Priority Team with Tom Challen
The training that Tom Challen provides will catapult your network marketing business as you learn to become a prospecting professional and become comfortable calling your leads on the phone. You will learn how to convey the right posture of a credible leader.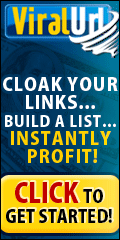 "Discover The Secret To Massive Profits Each Month Using Viral Content Magic"
Get More Leads, Traffic Geyser and Buzz with Traffic Geyser!

Manage your videos and increase your traffic with Traffic Geyser.
Can You Have More Sales, Too?
Helping over 65,000 businesses like yours raise profits and build customer relationships using AWeber's opt-in email marketing software for over 10 years.
Take a Free Test Drive today!



Ok, here are my favorite products for SEO. I personally use these products and strongly recommend them.
Traffic Dashboard by Kim Roach
In this product, Kim Roach outlines 24 different methods of getting traffic to your site and getting your site to the top of google.



SEOPressor by Daniel Tan
This is a must have plugin for SEO. This plugin will make sure that you have all of the on-page SEO items covered off in your blog posts.







Platinum SEO Plugin
This is a free plugin that you can download from the Wordpress plugins. The link is http://wordpress.org/extend/plugins/platinum-seo-pack/



Secret SEO Recipe – a Warriorforum WSO
This is a great step by step guide for on-page SEO. In it the author also outlines the off-page SEO methods that he uses. You can see from his own results that this works. Just google Tinnitus Miracle and you will see his site, http://tinnitusmiraclev.com/ is the number one result. He also explains an insightful affiliate method that he uses and what keywords that he goes after for affiliate products which are primarily Clickbank products. This method alone has opened my eyes to how I do affiliate marketing.
The following is the link to this product, but is not an affiliate link.
http://www.warriorforum.com/warrior-special-offers-forum/294799-proof-dominate-googles-1st-page-my-secret-search-engine-optimization-recipe-insane-reviews-over-1-800-sold.html